Nike Air Force 1
The Nike Air Force 1 has become one of the most popular Retro-Basketball sneaker from the sporting goods manufacturer Nike since its release in 1982. The Air Force 1 is absolutely present in the hip-hop and streetwear scene for many years.
shop now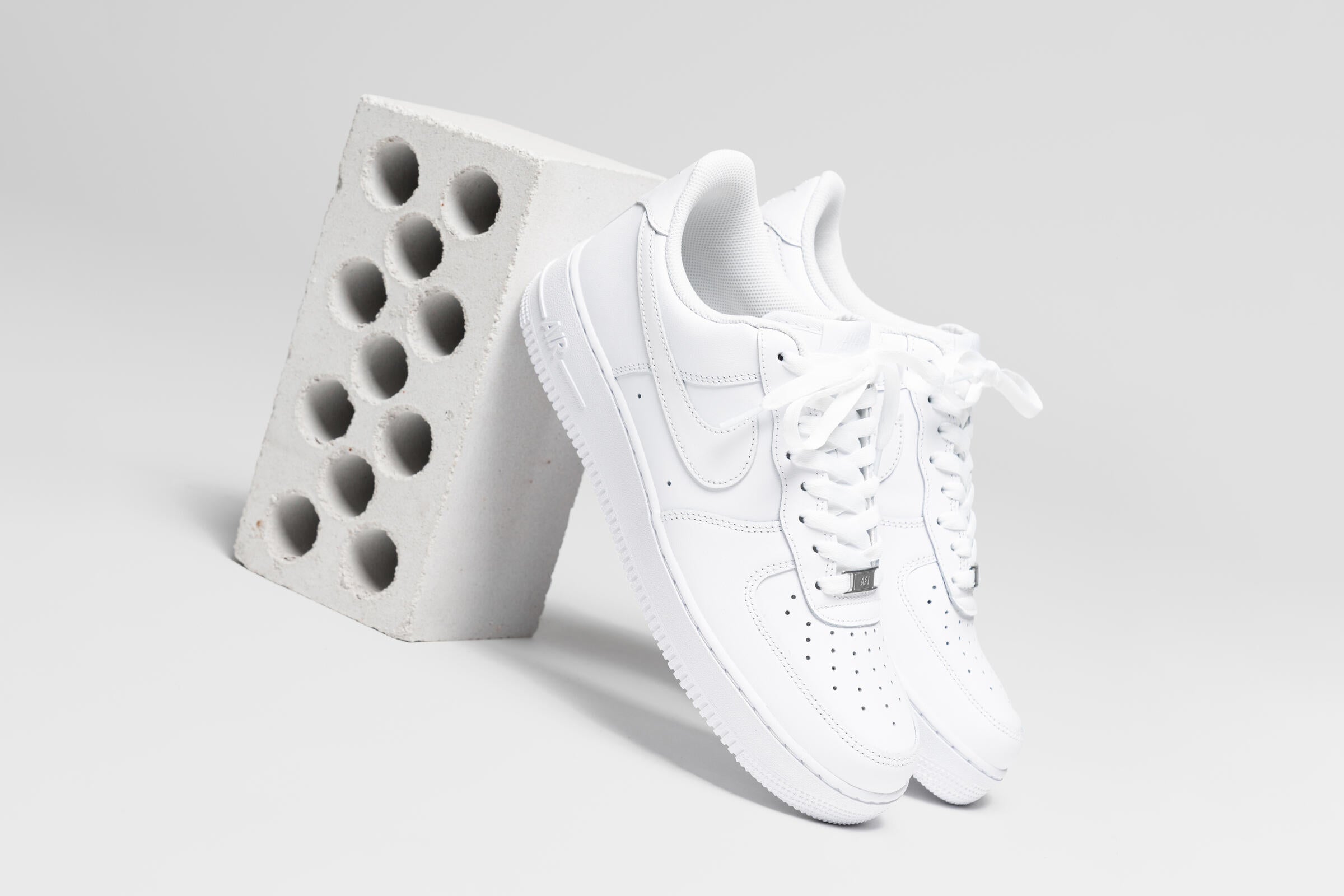 But the sneaker is not just an optical highlight: the AF1 was the first shoe with a complete Air-Sole and with the typical buckle at the ankle the shoe offered a great support as well as a perfect fit. Nike Air Force 1, the darling of every basketballer, hip-hop and sneaker-friend. The Nike Air Force 1 gained many fans because of its special look. There were released numerous collaborations and colorways since the 1980s. We could also say the sneaker became a regular facelift. Have a look at our shop and find your personal best version of the classic. It's a sure thing that the updates of the AF1 will not be set. If you want to be the first to know which fresh sneakers will be released in the future, just subscribe to our AFEW Informer.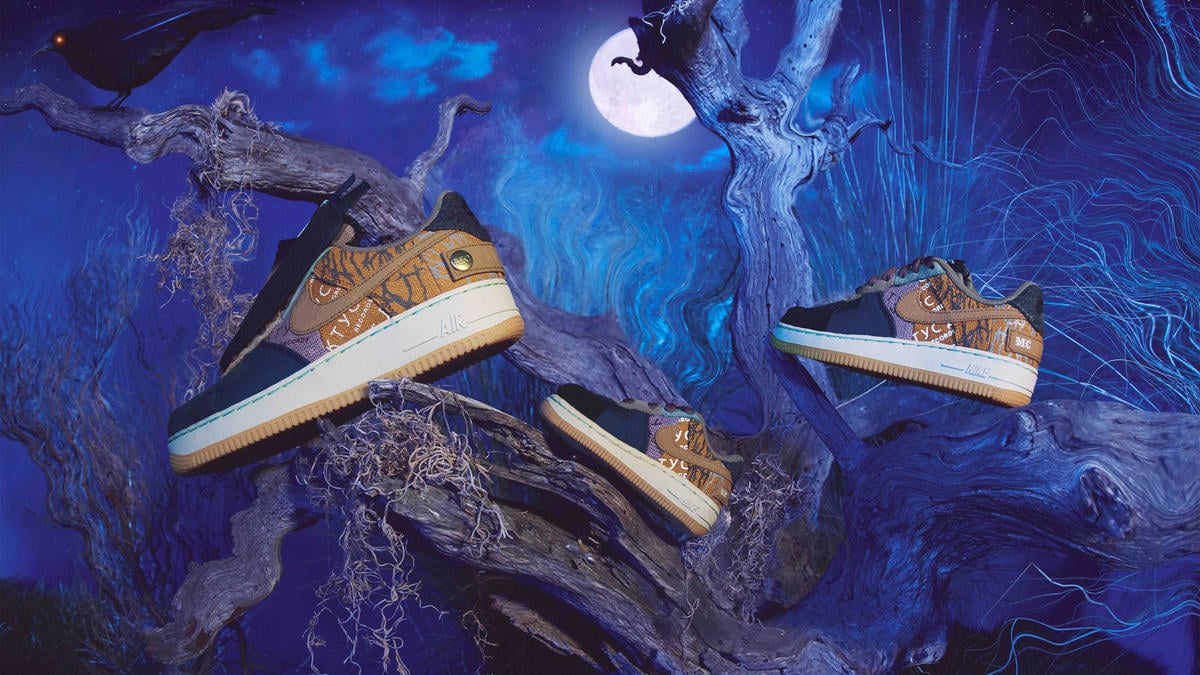 Nike x Travis Scott Air Force 1
Celebrating its 35th anniversary, the Air Force 1 is arguably one of the most important silhouettes in Nike's catalogue, connecting sports, music, fashion and art, all in one. As expected, Oregon's finest likes to be one step ahead. Merging forces with trap superstar Travis Scott, two iterations have been released. First, a white colourway that takes cues from how Travis produces his albums – focused, clean, inspirational. In addition, all the multi-colour reflective elements represent when he is in the "acid of rap", normally during concerts. Moreover, the pair boasts removable VELCRO® swoosh logos and tongue patches as well as lace-dubraes just like his grills. On the other hand, you have got the Cactus Jack, symbolizing Scott's Texas roots. Delivered in camouflage, corduroy, duck canvas, flannel, leather, suede and wool, it all nods to his youth spent in Missouri. Referencing resilience, hard work and hustle, the pair is delivered in hues of brown, lilac, navy blue and black. Many of the details mirror the style of traditional work coats, containing snaps, heavy brass zippers and removable tongue covers.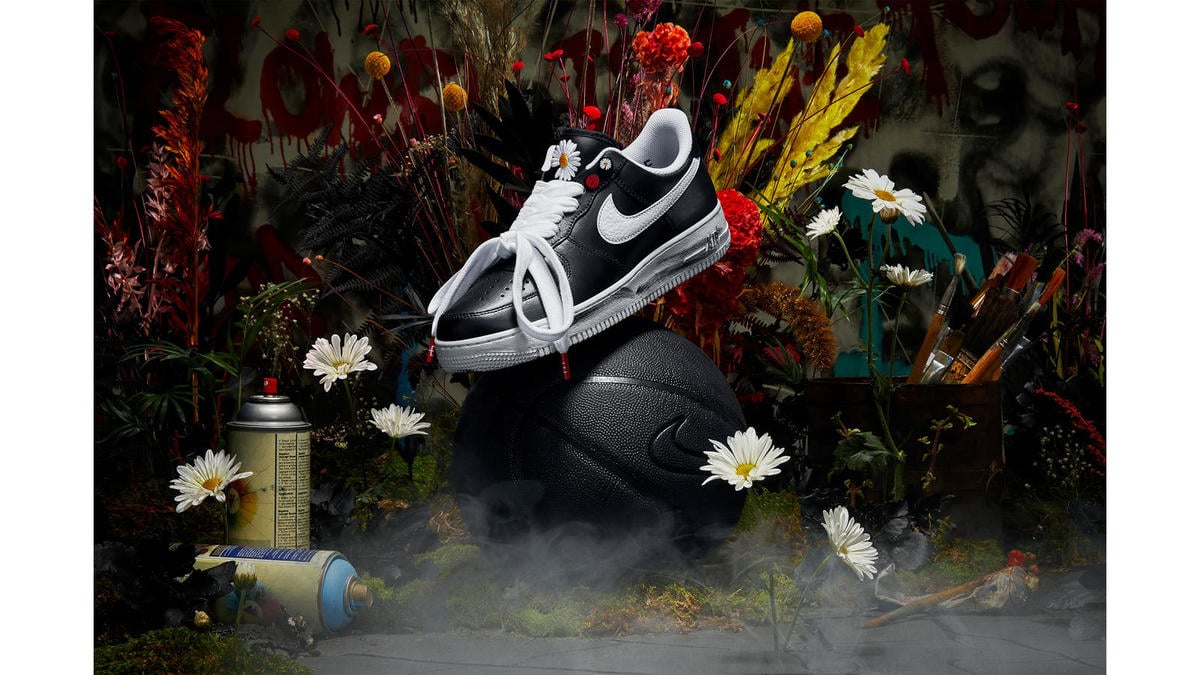 Nike x PEACEMINUSONE Air Force 1 "Para-Noise"
At first glance, the Nike x PEACEMINUSONE Air Force 1 "Para-Noise" might look basic and dull. Look again, there is more than meets the eye. Kwon Ji-Yong, better known as G-Dragon, is a K-Pop Star and member of the group Bigbang. For him, the Air Force 1 itself is much more than just a pair of sneakers. Nike decided to partner up with the brand PEACEMINUSONE, owned by G-Dragon, by releasing one of the best Air Force 1 we have seen in recent times. The upper is built using black paint on top of the premium leather while details are seen on the embroidered daisy logo on the tongue, representing PEACEMINUSONE. Additionally, dark strokes of paint are seen on the white midsole, acknowledging his artist roots. Moreover, as long as you keep wearing them, the upper tears apart and reveals G-Dragon's artwork underneath. The whole silhouette embodies a form of art expression, pushing both sneaker and music culture forward.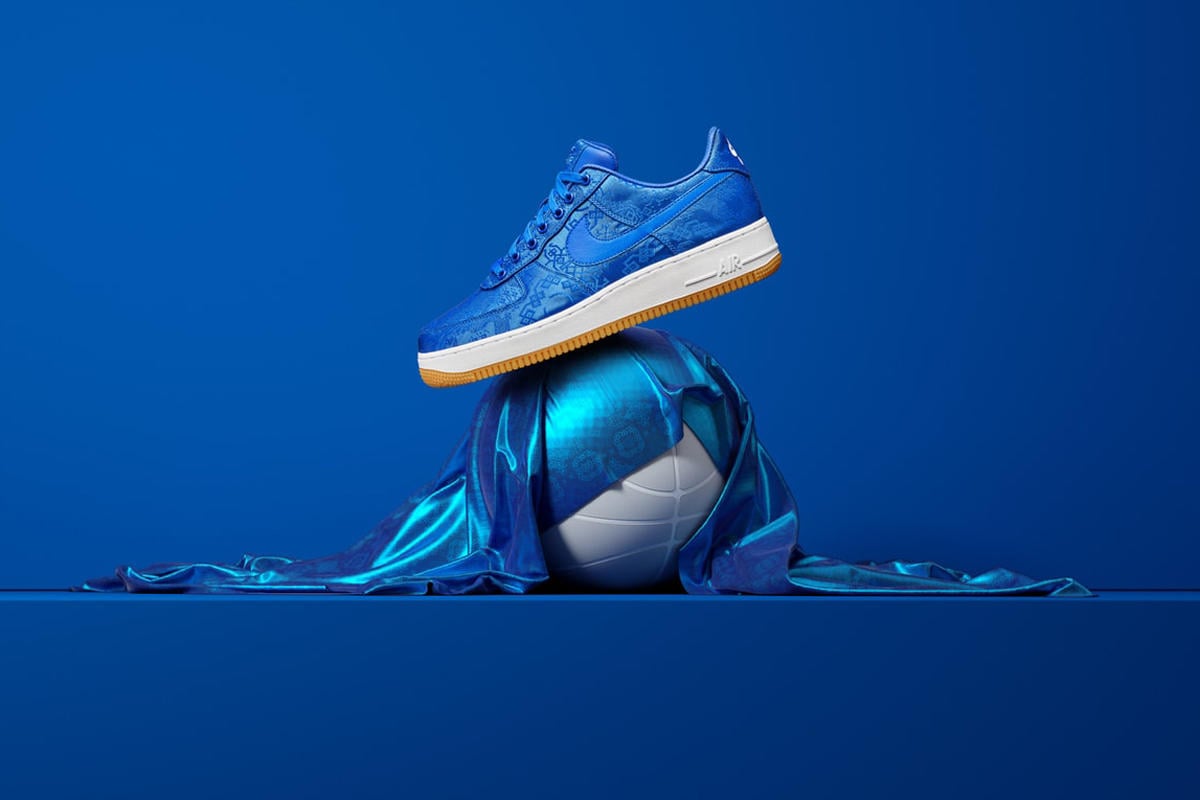 Nike x CLOT Air Force 1
Straight from Hong Kong, CLOT has had a long-lasting relationship with Nike. Both labels have joined forces many times in the past by releasing limited edition sneakers, for instance. One of the most successful drops was the Air Force 1 "University Blue Silk", released in late 2019. Inspired by the concept of Yin and Yang and delivered with two different layers on the upper, this ethos expresses CLOT's own message by "letting the world know that beauty can be found both on the outside and inside". Apart from its silky blue upper wrapped in traditional Chinese culture all-over print, you will find a special colour-treated grey layer underneath altogether with a leather tongue. The pair sits atop a full white midsole contrasted by a gum outsole.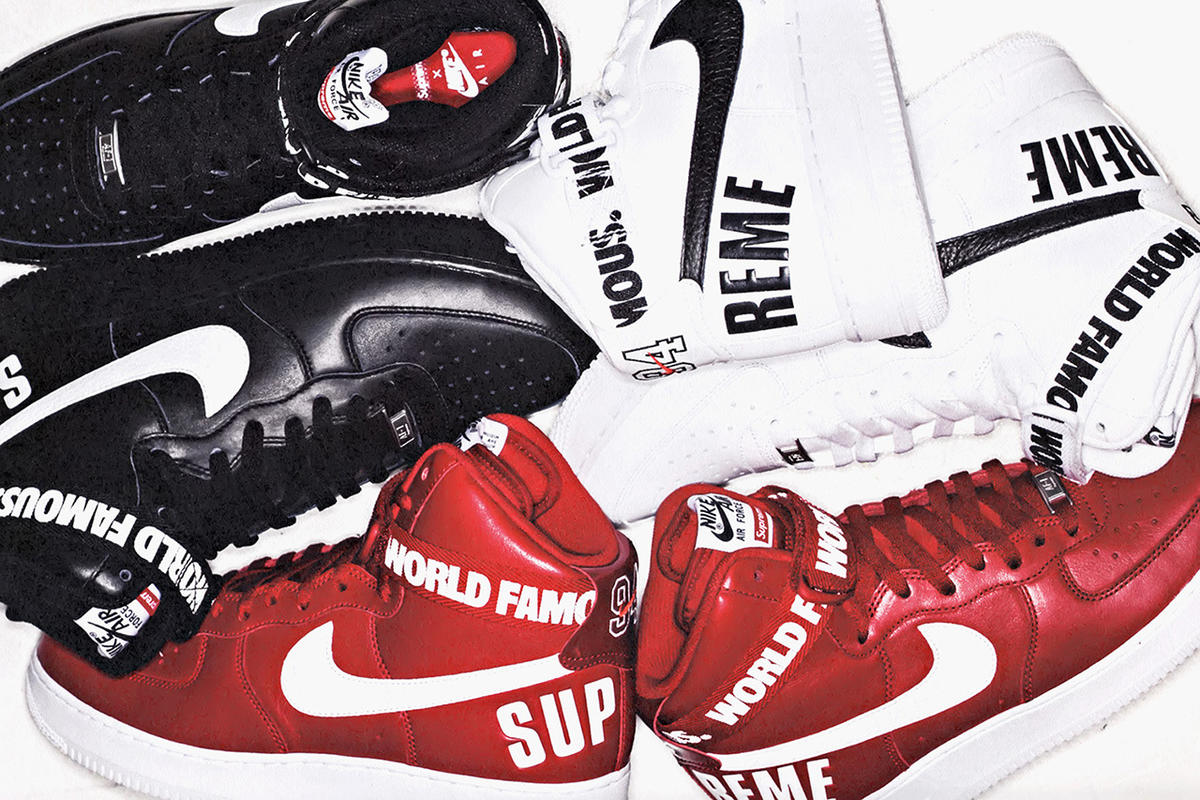 Nike x Supreme Air Force 1
No introductions needed, right? Originally a skate brand, we all know Supreme´s authority and oversight of the streetwear world. On that note, it makes sense for both American labels to collaborate with one another. From skateboarding sneakers to outerwear stamps, Supreme knows it all. On the other hand, all of this brings us to one of the most important silhouettes of all time – the infamous Nike Air Force 1. New York's finest has released quite a few iterations of the Air Force 1, from the World Famous High and NBA Mid to the Camouflage and CdG Lows. Earlier this year, two new iterations of the Air Force 1 Low were released. Some devotees said that the collaboration was rather basic, however the arrangement of the Box Logo on the back-heel has just the right amount of elegance and mastery. Like always, they were selling out super quickly.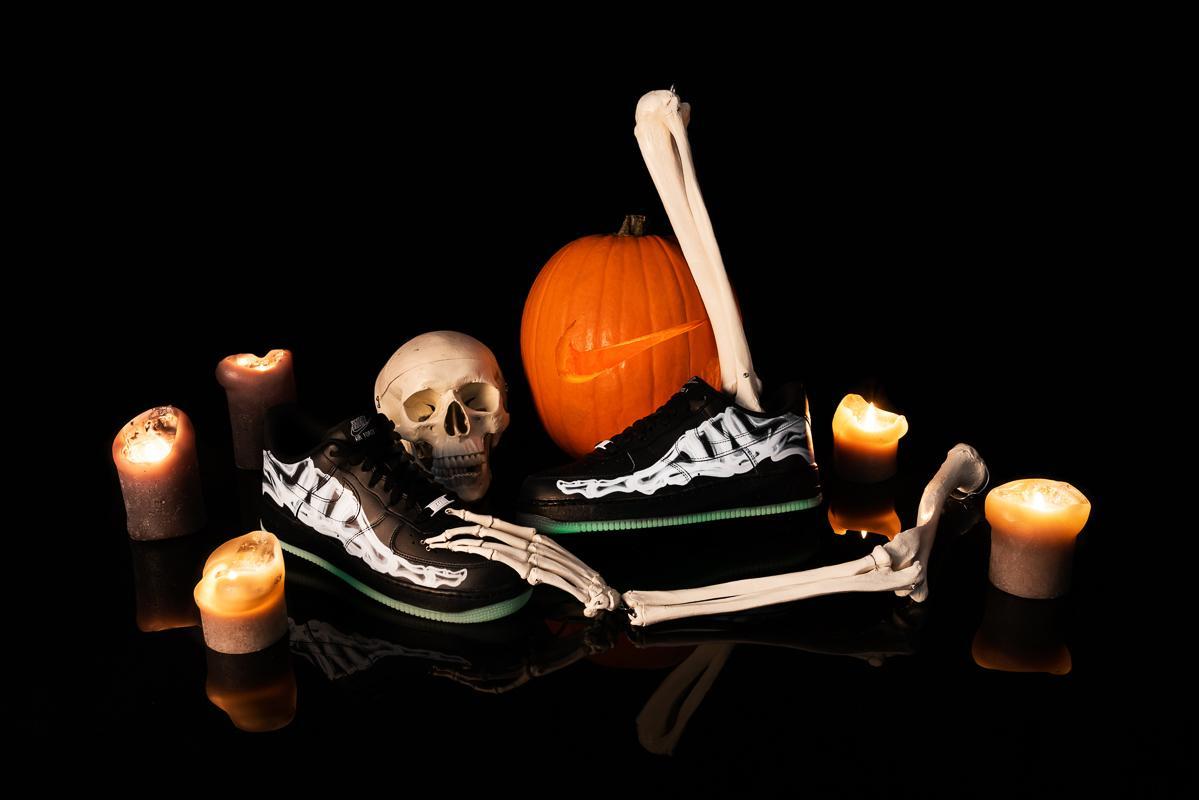 Nike Air Force 1 "Skeleton"
Part of the Halloween catalogue, yet another spooky and ghostly colourway was made available. In fact, two iterations were released separately. The "Skeleton" in white debuted in 2018 and the black in 2019. Both were instant sell-outs, for obvious reasons. Nevertheless, colourways apart, the Nike Air Force 1 "Skeleton" displays a full premium leather upper with most of its OG detailing. Most importantly, the foot of a skeleton across the medial and heel is an assured neck-breaker. These AF1 also boast a translucent outsole that glows in the dark, corresponding to season festivities.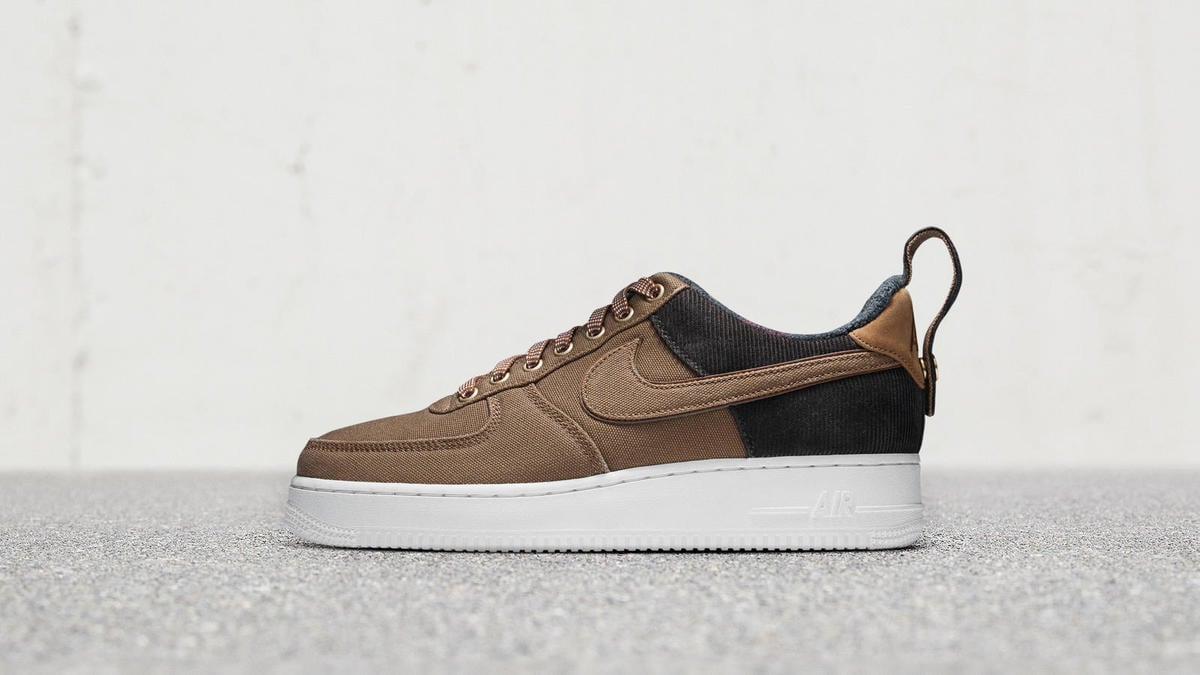 Nike x Carhartt Air Force 1
The Nike x Carhartt Air Force 1 was built to last. Both hyped brands came together to release a toned-down pair, but with a lot of breath-taking details. Splendid for Winter season, the silhouette features Carhartt's signature duck canvas and corduroy fabrics adorning the standard upper we all know of. The pair also gives you that outerwear vibe due to its metal eyelets and snap-button detailing. The "Ale Brown" also displays co-branded tongue patches, flat weaved laces and a fleece lining – truly a rugged take on a street classic.