Nike Blazer VNTG
The Nike Blazer was released in 1972 for the first time and is one of today's most popular Basketball Retro Sneakers by Nike Sportswear.
shop now
Other than most of the 80s Basketball shoes, like the Dunk or the Air Force 1 the Nike Blazer features a slimmer upper and the typical XL Swoosh. The most popular edition of the Blazer is definitely the Nike Vintage Blazer, which is made of leather or suede & features the typical VTNG Look. By the way, the Nike Blazer was worn by the NBA Legend George Gervin aka Icemen and has been released in several Colorways & Edition since that time.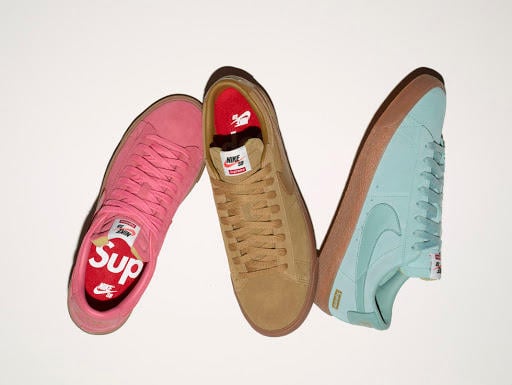 Nike x Supreme
Let us get one thing straight: everyone loves Supreme collaborations. They have been on it for decades, drop after drop as their relationship with Nike has grown over the last years. For now, we feel obliged to mention the Blazer iterations released by New York's finest. The year of 2006 was marked by the Nike Blazer SB Supreme drop, made available in three different colourways – Black, Red and White. All three displayed a quilted leather upper inspired by the blinged-out fashion of the 80s altogether with a python-snakeskin swoosh and a Gucci-inspired heel stripe. In recent times, catering a more all-in-one style, the Nike x Supreme Blazer SB Low made its debut in 2016, also as a trio – "Cannon", "Desert Bloom" and "Golden Beige". The pack boasted a premium suede upper, a tonal leather swoosh and embossed metallic detailing.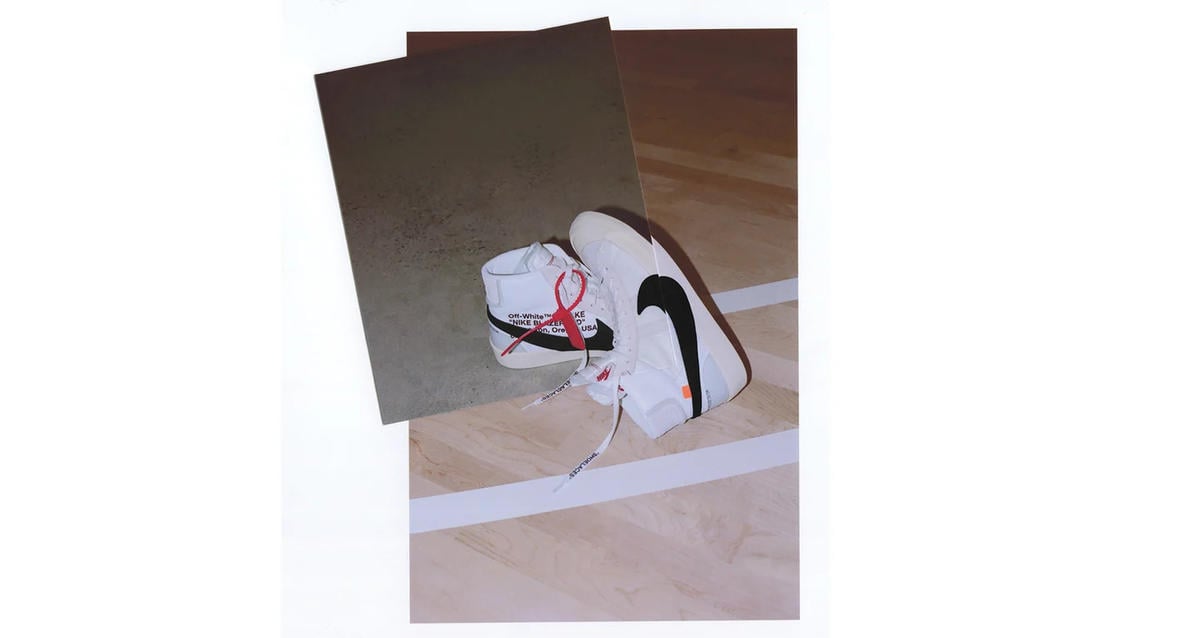 Nike x OFF-WHITE
If you have never heard of Virgil Abloh, well …. You should have. Mr. Abloh is a designer, entrepreneur and DJ, founder of OFF-WHITE since 2013. He is now linked to Louis Vuitton and of course, Nike. Four different colourways were made available in recent times, all as Blazer Mid. The first release, part of "The Ten", displayed a creamy upper with a black swoosh. Thereafter, the "Grim Reaper" and the "All Hallow's Eve" were made available in Black/White and Pale Vanilla/Total Orange, respectively. For last, but not least, the "Queen" was released by partnering up with Serena Williams, boasting a grey upper and a pink/purple midsole. The quartet is resold for hundreds if not thousands of Euros. You know – you snooze, you lose.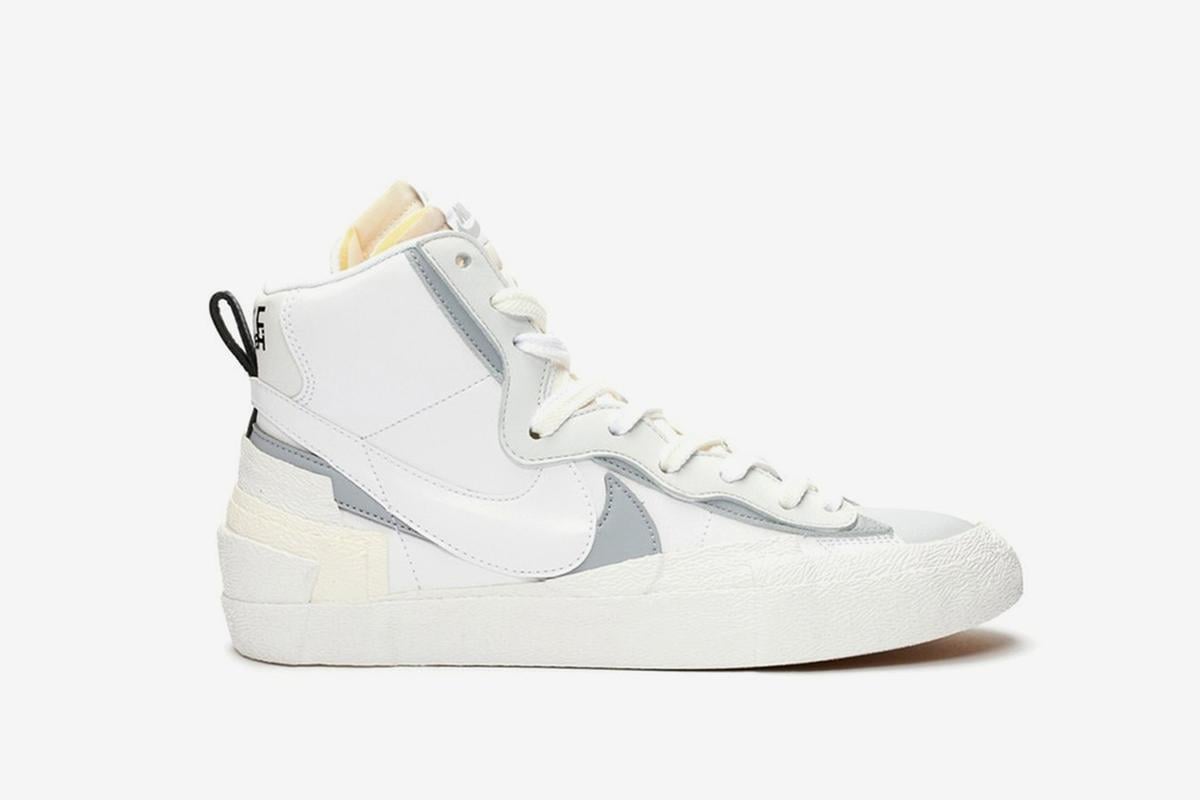 Nike x Sacai
If you belong to the younger hypebeast generation, you may have heard about Sacai only in recent times. Do not worry, we got you covered: the Tokyo-based luxury label was founded by Chitose Abe and has been around since 1999, introducing its style defining journey just before the turn of the century. Taking deconstruction to a total new level, the Nike x Sacai Blazer Mid in all colorways is made up from two of everything, from the swoosh to the tongue, from the laces to the insoles. Quite a few neck-breaker colourways were released - yellow, blue, black and white - complemented by a leather upper and suede overlays. A must have for sneaker collectors, don't you agree?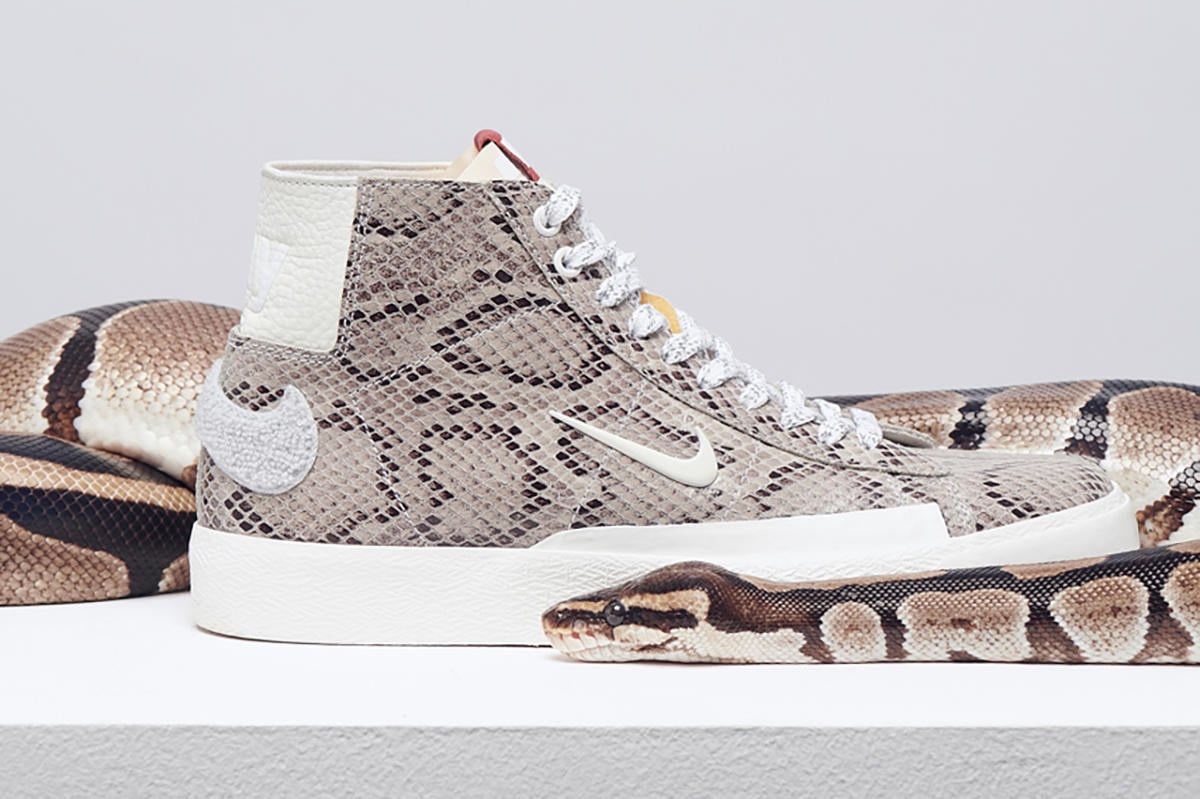 Nike x Soulland
Believe or not, Soulland has been around since 2002. Although, their flagship only opened its doors later in 2013. Founded by Silas Adler and Jacob Kampp Berliner, and straight out of Copenhagen, at its core, the brand produces high quality menswear, sourcing all materials from Italy, France and Portugal. The Nike x Soulland Blazer Mid is all about a timeless design, however with a twist. Right after the works made on two of Eric Koston skateboarding sneakers, these boast a snakeskin upper altogether with a shrunken white Swoosh on its side. While the heel displays a huge chenille Swoosh, subtle details are seen both on the sole and tongue with the label's branding in blood red.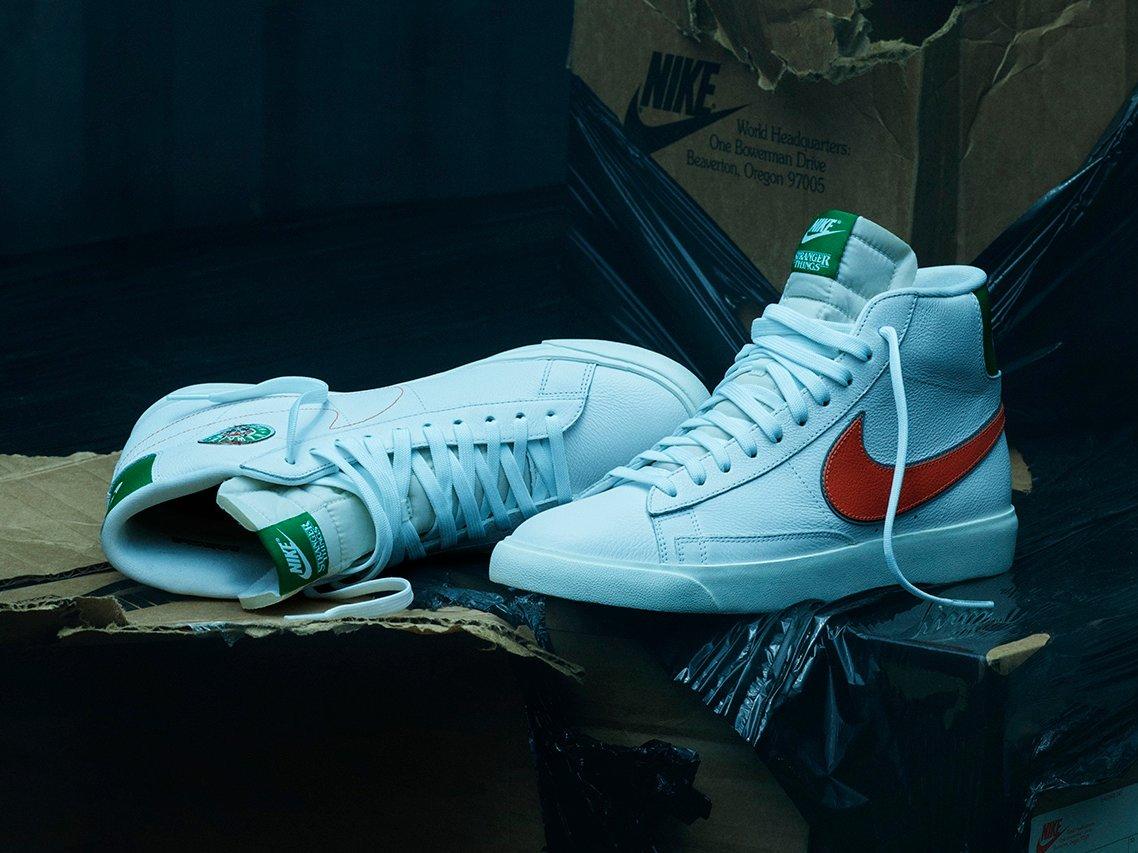 Nike x Stranger Things
Around here, no one is a movie critic. Yet, we can tell you a thing or two about Stranger Things. Inspired by the 80s horror movies and created by the Duffer brothers, this Netflix series is all about mystery, supernatural forces and a special young girl, long story short. It was so successful that Nike has collaborated with Stranger Things to create three colourways of the Blazer. There are two "Hawkins High" iterations – one pays homage to Physical Education Uniforms, dressed in white with orange and green details while the other boasts a "Game Royal" upper with a tumbled leather Swoosh. Nonetheless, the version that amazes us the most is the "Upside Down" Blazer, resembling a hidden alternate dimension itself. The upper, if ripped apart, shows a parallel world of it own made of denim.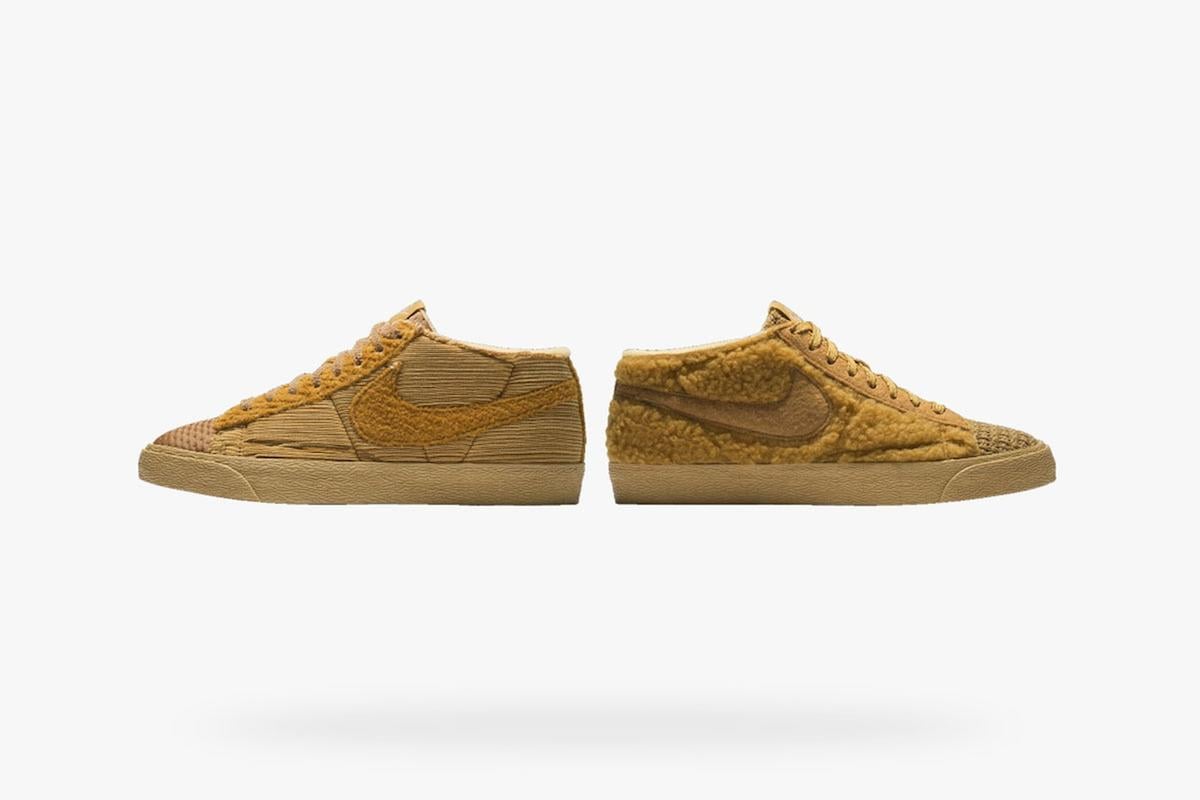 Nike x Cactus Plant Flea Market
The Nike x Cactus Plant Flea Market Blazer is one of the most recognizable collabs on this retro basketball silhouette. The Blazer Mid was a "Nike By You" and (almost) completely customizable and represents the label's DNA. The upper which you could choose from was either wool, corduroy or canvas. Its beige upper was sponge-like, same as you know it from the vintage tongue of other Nike styles. The possibilities to create your very own Nike x Cactus Plant Flea Market Blazer Mid was huge. Till today we haven't seen this complex collaboration, didn't we? If you could get hands on this unique pair, you are one of a few happy owners. Fun fact: Did you know that the founder Cynthia Lu has worked as Pharrell Williams's assistant for a couple of years?