Nike Dunk
The Nike Dunk is one of a kind, sort of. In fact, it blends the best of two iconic Nike Basketball silhouettes: the Terminator and the Air Jordan 1. Designed by Peter Moore, the timeless Nike Dunk was originally released in 1985.
shop now
Indeed, in its early stages, the Dunk was precisely what it sounded like. Its working title and purpose were to be the best basketball shoe of all time, forever linked with college basketball. Twelve different colourways were debuted, representing America's top basketball Schools, leading to the "Be True To Your School" ad campaign.
After being embraced by skate culture during early and mid 90s, due to the fact that all skate-shoes were thin-soled with no comfort or grip whatsoever, the Nike Dunk returned 10 years later after its release by popular demand. Not only the skate scene started to be involved, but also the hip hop scene – 36 pairs of the Wu Tang Dunk were made, after Drew Greer thought that the "Goldenrod" was hard to shift in shops. Furthermore, as Japan is always one step ahead of the game, a series of Japan-only Dunks were developed as well, with some help from the one and only Mr. Fujiwara, that later on would join forces with Tinker Hatfield and Mark Parker to form what we know today as "HTM".
The early 2000s were marked by the creation of Nike's SB division. Even if hard to understand at its beginning, it stuck around. And in all honesty, the rest is history. The Dunk Low was released side by side with Nike's SB Team: Richard Mulder, Reese Forbes, Gino Iannucci and Danny Supa. Craving for more, great collaborations were set to happen; from the "Stüssy" to the "Diamond Supply Co.", from the "Supreme" to the "Pigeon", from the "Paris" to the "Heinekens"; it truly changed footwear history as we know it.
As time went on, Eric Koston got involved, Supreme kept on pushing, and the so-called fashion houses were brought in, such as Dover Street Market. As the hype-train approaches, Virgil Abloh comes along, as well as Travis Scott. All of them were allowed to create their very own Nike Dunk.
To conclude, we can say that the Nike Dunk was created for basketball, adapted to skateboarding and can now be considered a universal silhouette – a silhouette that combines ground-breaking elements from sports, fashion and style.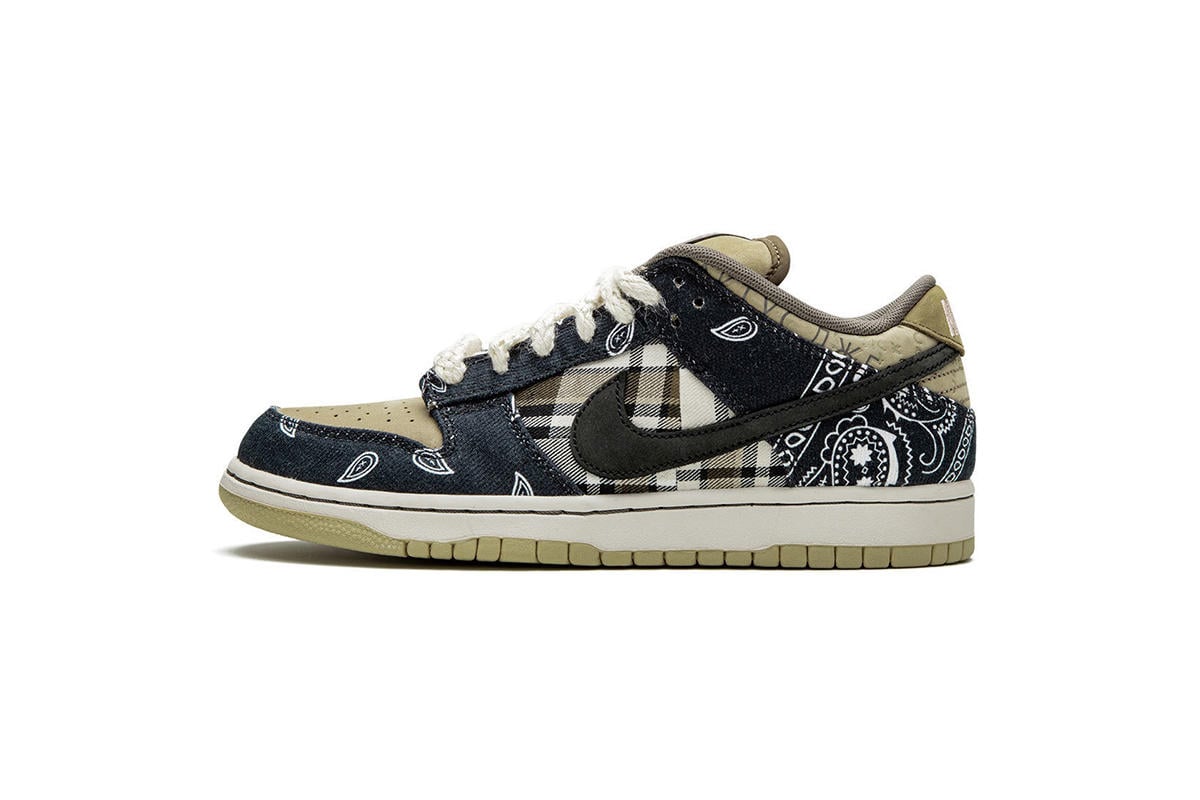 Travis Scott x Nike SB Dunk Low
The hype is real, especially when you talk about Travis Scott, whose one of his best works is arguably the Nike SB Dunk Low. As much as the year of the 2002 marked the beginning of a new wave with the creation of the Nike SB division, we have recently witnessed the rise of the Dunk, yet again. This iteration was first debuted in late 2019 during one videoclip of Travis' JackBoys EP. The silhouette is dressed in various materials and panels as well as tearaway patches that reveal a cement print, in a nod to the Supreme SB Dunk collaboration back from the days. Further details are seen on the custom Cactus Jack tabs on the tongue and its unique rope laces, making them an instant sell out.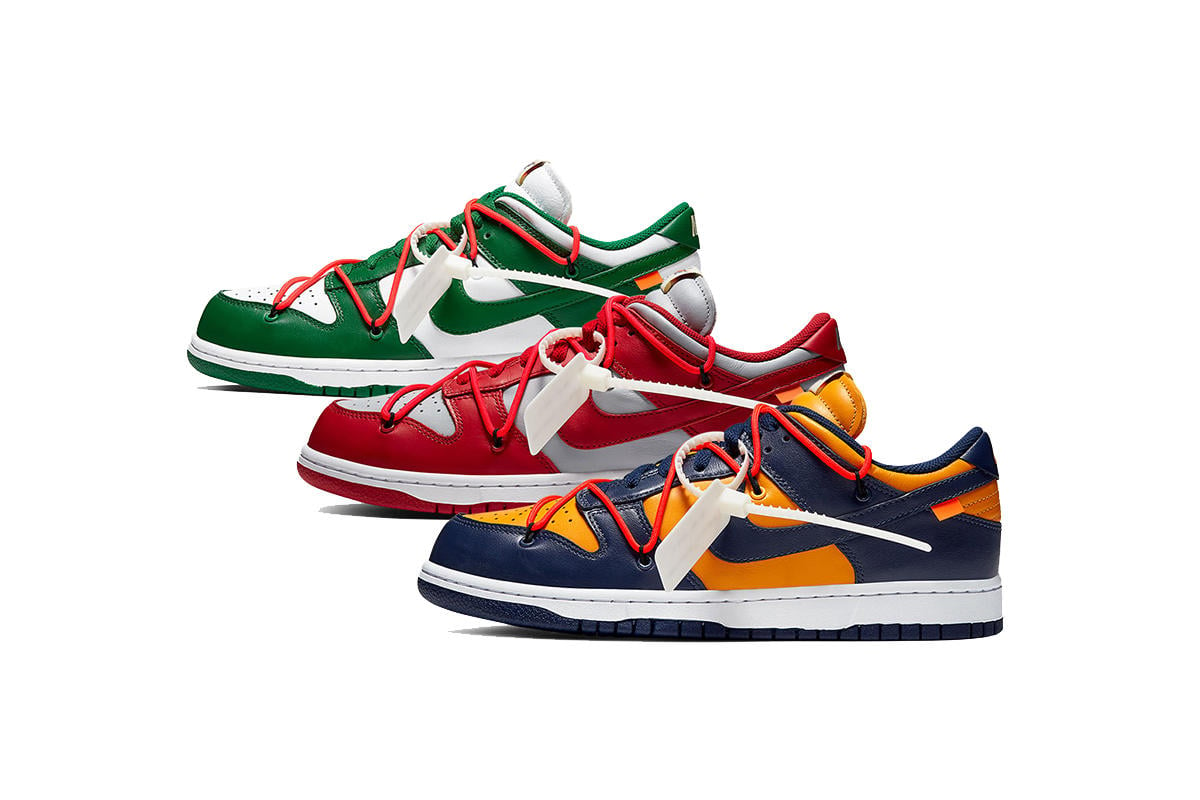 OFF-WHITE x Nike Dunk Low
The original Nike Dunk was released in 1985, though introduced to the SB sub-division later in 2002. Certainly, Virgil Abloh has helped Nike to bring back the silhouette. Three colourways were made available: "University Gold/Midnight Navy/White", "University Red/University Red/Wolf Grey" and "White/Pine Green/Pine Green" – you know the drill, they all sold out in seconds. All of them boast a one-of-a-kind lacing system, zip-ties and the well-known custom Off-White lettering. For purists, they may not be their first option, but we have to agree that they are a must-have for sneaker collectors.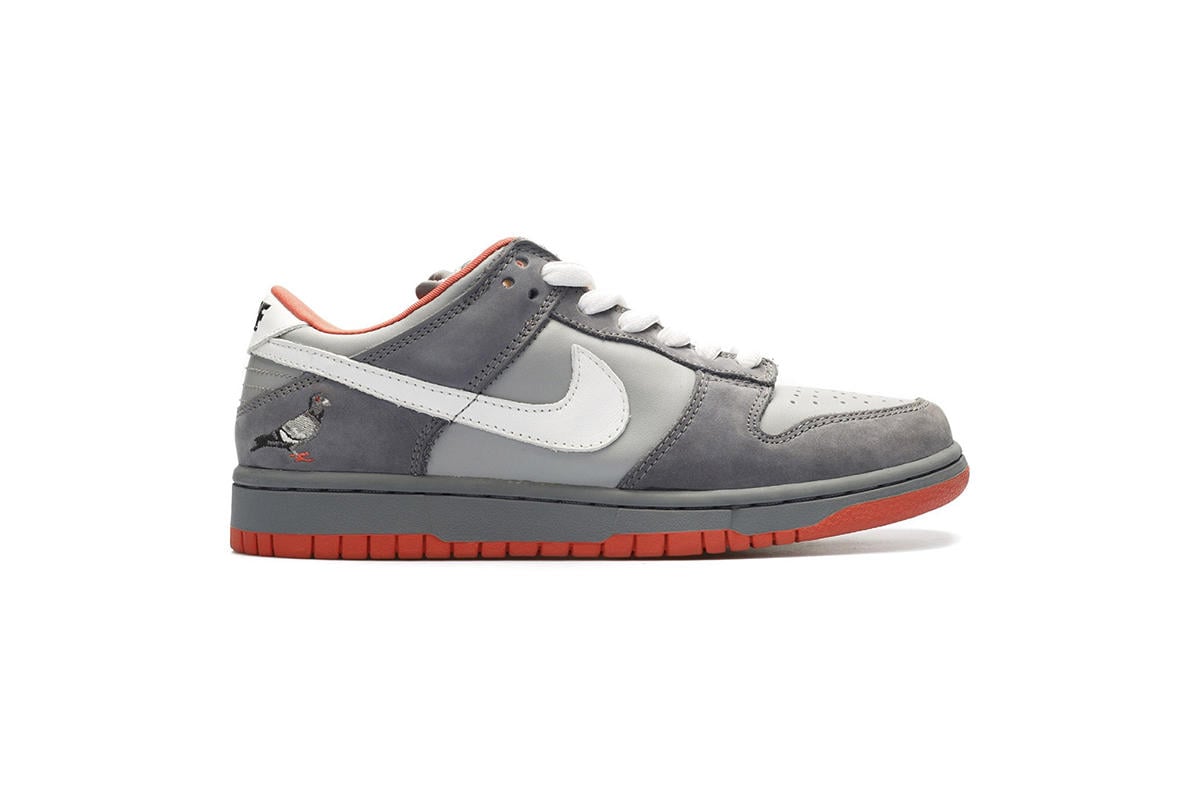 Staple x Nike Dunk SB Low
We all know the history behind the first Dunk designed by Jeff Staple. The release of the "Pigeon", in 2005, surely changed sneaker history as we know it. This pair in particular is dressed in grey with red-ish elements. Moreover, contrasting laces and Swoosh finish off the silhouette. There is no other way around it – they cost and arm and a leg, nowadays, and if you still have a pair, you keep it. Years passed, and yet another colourway was made available, this time in a black palette, still sold in a proper pink SB box. The "Panda" saw the light of day almost by accident, where sneaker fiends begged for it to release after Jeff showed the sample via Instagram. Long story short – it does not matter if you are a skater, collector or just an enthusiast, all of these are true touchstones within the sneaker community.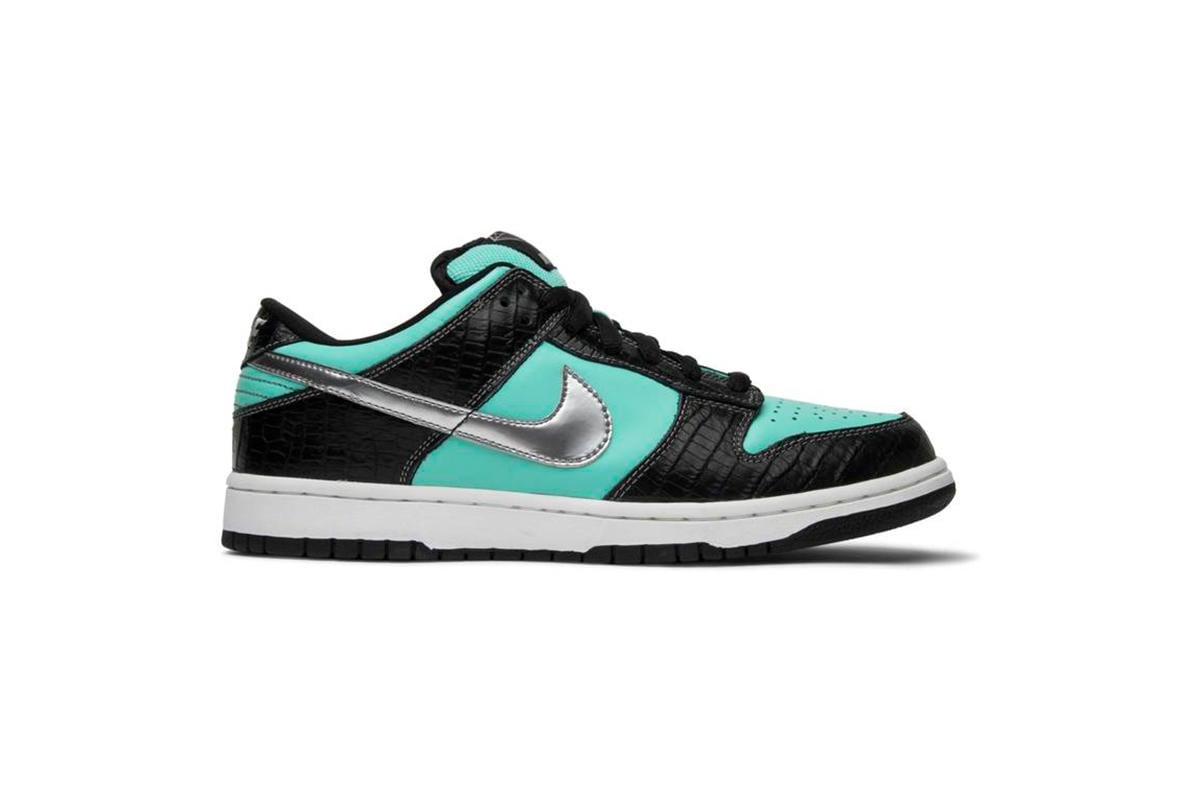 Diamond Supply x Nike SB Dunk
Some say that August 2005 changed Nike SB forever. We are forced to agree, up to a point. The Nike SB Dunk Low x Diamond Supply Co. AKA "Tiffany" is one of the greatest colourways ever made. Black and turquoise upper with a silver swoosh – what else can you ask for? Funny enough, as years went by, on the same weekend that the Red October by Kanye West were made available, the High-Top iteration was unveiled. To top it off, not that long ago, Nicky Diamonds returned to Nike and brought back three colourways – black, white and canary – of his beloved Dunk, all swathed in a full leather upper featuring a removable Velcro Swoosh.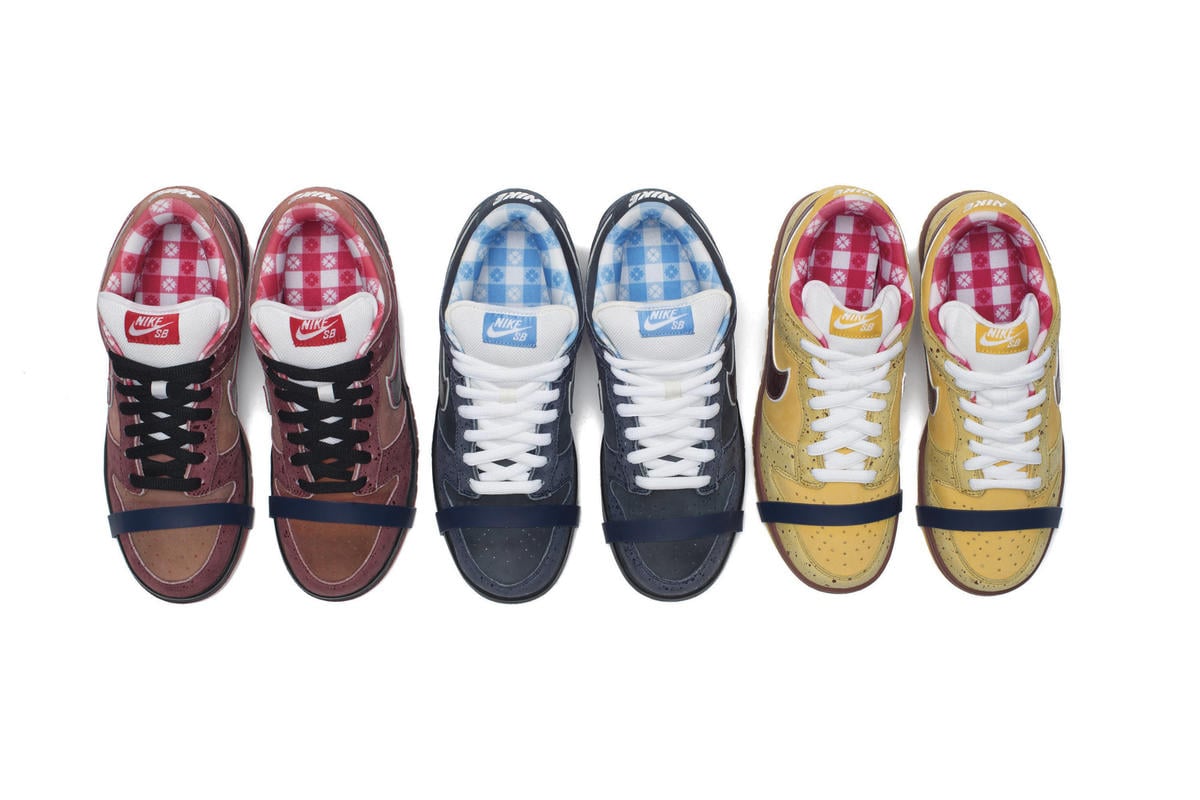 CONCEPTS x Nike SB Dunk
Straight out of Cambridge, Boston, we have Concepts. Despite its many, many collaborations with several different brands, one of the most impactful was, in fact, the Nike Dunk Low "Lobster". At first, Concepts owner Deon Point did not approve of this, but he came to terms with the idea not that long after. And it was the right move. Inspired by one of the most popular dishes from the New England state and designed by Rob Heppler, the Lobster is dressed in red hues and boasts a table-cloth lining. At the toebox, just like a lobster in a tank, it has a blue rubber band. Surely, they cost an arm and a leg in the after-market, especially the "Yellow Lobster". But Concepts keeps pushing and gave us in 2019 the "Purple Lobster" and the "Green Lobster". We could have added a few others, just like the "Grail Collection", but let's leave it at that.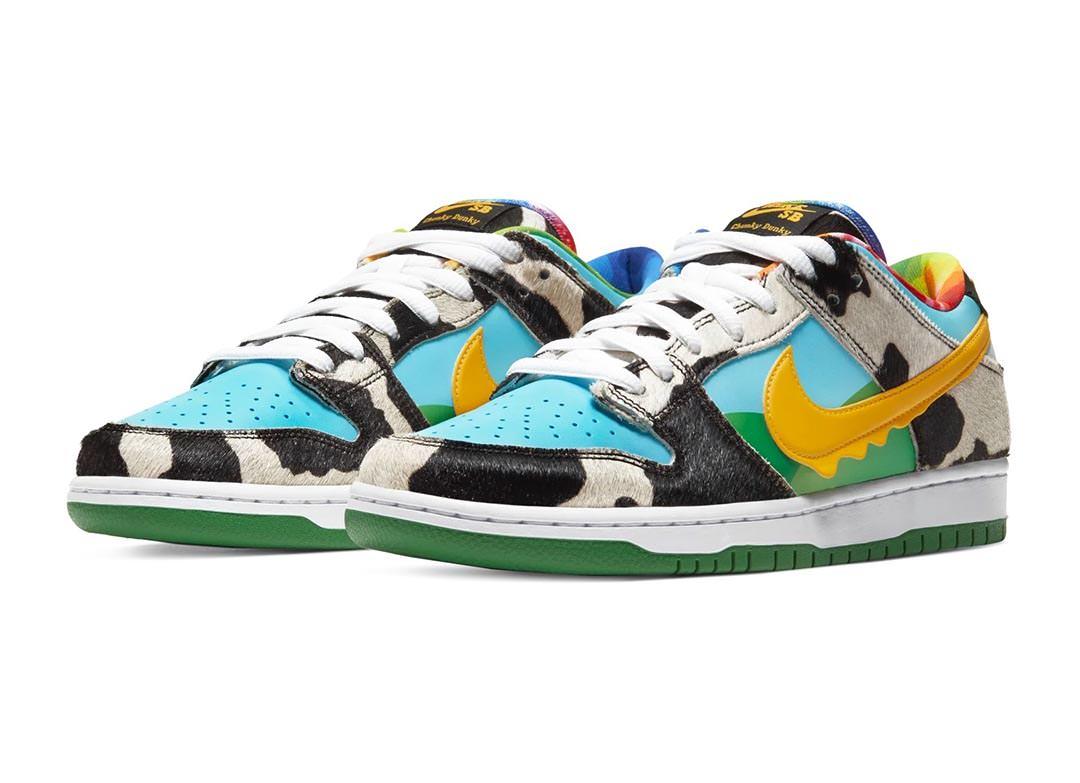 Ben & Jerry's x Nike SB Dunk
Since 1978, Ben & Jerry's has been rather committed to its core values. Some may be as simple as serving the best ice cream ever, just like Nike SB, by making available the best skate shoes of all time. And let us get one thing straight – everyone went crazy from the moment they were announced! The silhouette features hues and textures that resemble the ice cream's original trademark – very blue skies, bovines and of course, green fields. A happy place if you ask us. In addition, rainbow and tie-dye patterns together with bold text round up this sneaker.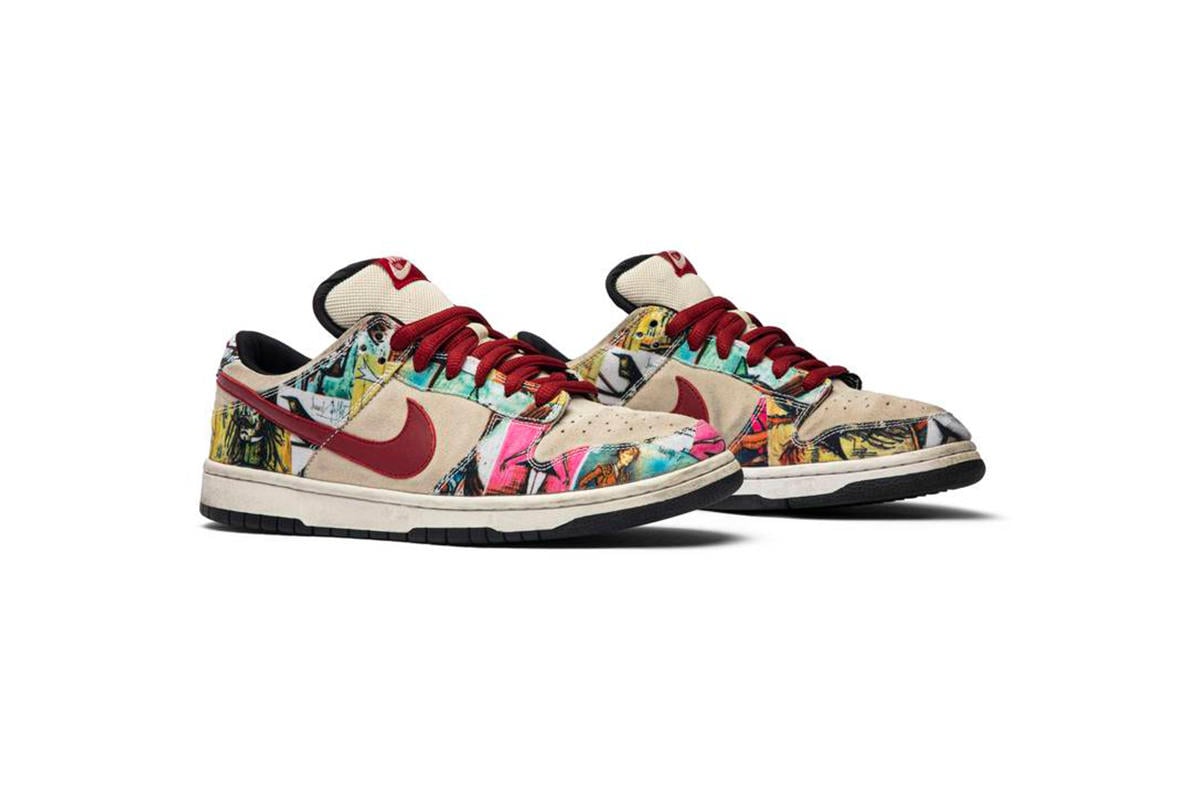 Nike SB Dunk "Paris"
One of the most expensive and rarest pairs of the Nike Dunk Low SB is the "Paris". Just so you know, only 202 pairs were made available. Let that sink in. They were made in 2003, they only debuted later in 2005, part of the "City Pack" which included the Pigeon from Mr. Staple. That happened since there were many people waiting in line for them. In fact, even back then it was almost impossible to get your hands on a pair. The upper of the "Paris" is "patch-work" built, using the artwork of French painter Bernard Buffet, hence no pair is the same, as Nike cut the canvas differently. If you have over 20k laying around, go get one.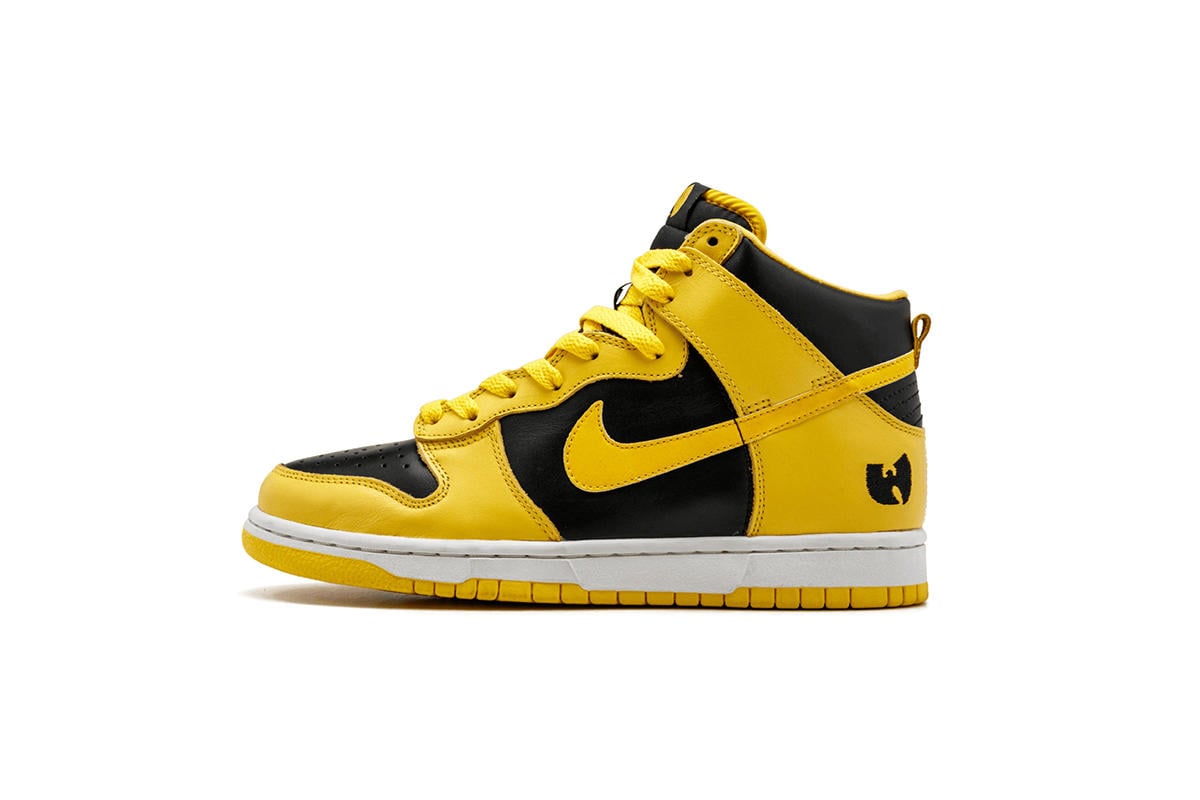 Wu-Tang x Nike Dunk High
No one is indifferent to Wu-Tang Clan, for all the obvious reasons. Also, footwear and Hip Hop have held a long-lasting relationship with each other over the years. Considered one of the rarest pairs of all time, the Nike Dunk High "Wu-Tang" released in 1999 is rumoured to have only 36 pairs produced. In fact it resembles the "Iowa" Dunk High, but with very important small twists: the silhouette displays the iconic Wu-Tang "W" stitched in black as well as a yellow tongue-tag. Long story short, there isn't much to say; they are just that good!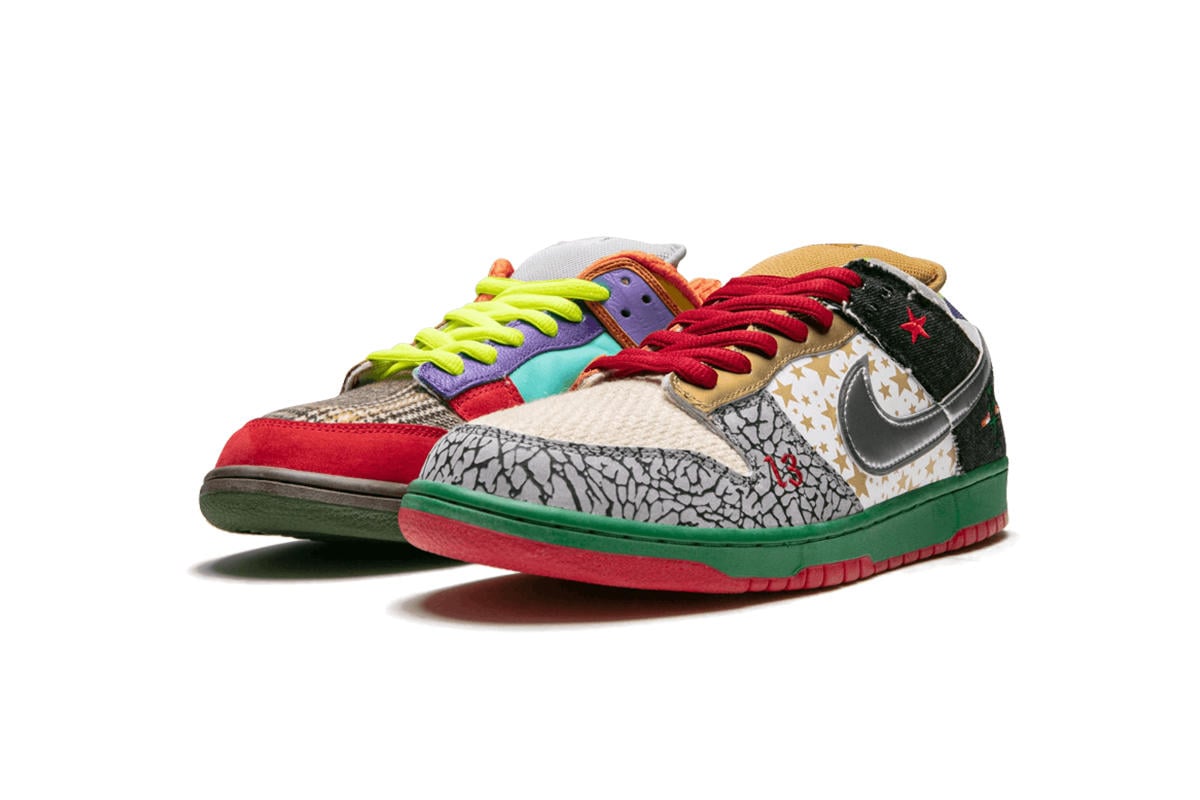 Nike SB Dunk Low "What The Dunk"
Ridiculous on purpose, the Nike Dunk Low Pro SB "What The Dunk" is truly one of a kind. Created from 31 separate Nike SB Dunks, the pair was originally released in October of 2007 with its known "Gold Box". Actually, they are a direct modification of the mid-80s Nike Dunk basketball sneaker, instead with minor tweaks to fit the purpose: thick and padded tongue, Zoom Air at the heel, among others. Designed by James Arizumi, every single detail was taken from shoes available to the public which includes the laces, tongues, stitching etc, apart from one – the "eBay Dunk", a 1 of 1, is displayed on the green lining of the left shoe.